Always There Bear is a toy-exclusive Care Bear who first appeared in 2006. She is cerise pink and her Belly badge depicts a pair of pink and smiling lavender hearts.
If there's one bear you can count on to just "be there", it's Always There. If she had a middle name, it'd be dependability. Whether it's a shoulder to lean on or just a listening ear, she's ready and willing to fill the gaps that absence can leave in our hearts when we can't be with the ones we care about. Known to indiscriminately dispense hugs.

In other languages:
Japanese: オールウェイズゼアーベア
Toys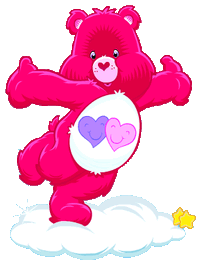 Always There was released as a 12" plush toy by Play Along in 2006 with a special raspberry scent. She comes packaged with a DVD that contains two Care Bears Family episodes: "Bright Heart's Bad Day" and "Grin and Bear It".
Descriptions
2006: Always There Bear reminds us that people we love never leave our hearts or thoughts, even when we might be apart from them. If you miss someone special, Always There is ready with a big, comforting hug. Her tummy symbol shows what she knows best - love keeps happy hearts together. Always!
Notes
Her double heart belly badge is nearly identical to Love-a-Lot Bear's, but with a lavender heart instead of red, and include small smiling faces.
Community content is available under
CC-BY-SA
unless otherwise noted.