America Cares Bear, formerly known as Proud Heart Bear is a toy-exclusive Care Bear who was first sold as a very limited release in 2003, despite initially debuting as an "environmentally aware" bear in 1991.
Physical Description
America Cares Bear is solid white and her Belly badge depicts a blue and white shooting star with a red and white-striped trail. Before this, she had a solid blue belly with a heart shaped American flag in the center.
For the character's "Unlock the Magic" design, America Cares' Belly badge has lighter colors, and had a red nose, akin to his "Proud Heart" design.
Personality
She is a happy, patriotic, and energetic bear who believes that America's greatest strengths are caring, helping others, and teamwork. In a 1991 publication, she also had a strong connection to the environment, encouraging others to make sure they take care of it.
Appearances
Before becoming a toy-only bear in the early 2000s, America Cares Bear could be seen in walkaround character form at various Care Bears events in the early 90's. Her appearance was based on that of the earlier design featured in a 1991 publication which featured many other Care Bears in order to raise environmental awareness. This design was later changed to resemble the more "modern" 2003 design.
In 2020, America Cares Bear was given an "Unlock the Magic" design for promotional material, first appearing on the "Care Out Loud" calendar on the Care Bears website in June 2020. As with many other redesigns of promotional Bears, like Trick-or-Sweet or Christmas Wishes, America Cares lacks eyelashes that female Care Bears have, making the character a male.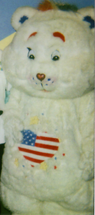 Toys
America Cares Bear was first released as a collector's edition plush toy by Play Along in 2003 to help celebrate the 20th anniversary of the Care Bears franchise. She was since made available in several variants, including loose and boxed versions.
Descriptions
2002-2006: America Cares Bear loves all that's good about our country. This happy and energetic bear shows that we should do all we can to care for America and the world. America Cares Bear even shows he cares about our country with his red, white and blue tummy symbol -a shooting star.
Trivia

In other languages:
German: Amerika-Bärchi ("America Bear")
Japanese: アメリカベア ("America Bear")
Community content is available under
CC-BY-SA
unless otherwise noted.