Baby Tugs Bear is a Care Bear cub and twin brother of Baby Hugs Bear. Along with his twin sister, he made his first animated appearance in the 1984 television special, The Care Bears Battle the Freeze Machine, and became a special character in nearly every episode and movie of said series.
Appearance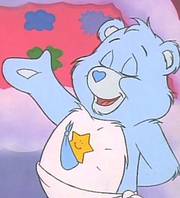 Tugs has baby blue colored fur and his Belly badge formerly was a yellow Starbuddy resting inside a blue cloth diaper. His Belly Badge was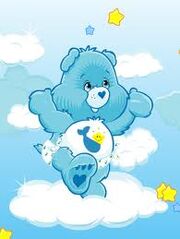 changed in the 2007-2008 series Care Bears: Adventures in Care-a-Lot to a red heart inside a yellow star.
Personality
In Tugs' own mind, Tugs is a full-fledged, full-grown Care Bear, and can be really brave, though he is hardly ever without his twin sister. They both get along, but like every brother and sister, they sometimes fight.
Naturally curious and playful, Tugs and Hugs have a habit of getting into trouble, and are usually looked after by Grams Bear, Grumpy and Champ Bear. In Adventures in Care-a-Lot, the twins are looked after by Cheer Bear.
Descriptions
2002-2006: Baby Tugs Bear is a happy, rough and tumble little Care Bear boy. He imitates the older Care Bears in all they do, and can't wait to be a grown up Care Bear. His symbol - a smiling star in a diaper - reflects his bright and happy personality.
Trivia
Before the introduction of Wonderheart Bear, Tugs and Hugs were the only Care Bear cubs.
In the Care Bears movie and series with the Spanish dubbing, he's called ''Bebeosito'' (Baby Bear), later in 2007, he goes by the name ''Abrazo'' (Hug), and finally in 2012 they called him ''Tironosito'' (Tugs Bear).
In other languages:
Croatian: Teglić ("Tug")
Danish: Baby Kram
Dutch: Boefbeertje ("Rogue Bear")
French: Ti' coquin
French (Canadian): Tirenours
Japanese: ベイビータグズベア
Norwegian: Nussebamse
Portuguese (Brazil): Sonho ("Dream")
Spanish: Tuggy
Spanish (Argentina): Tironosito
Swedish (Cartoon): Baby Kläng
Swedish (Comic): Baby Puff
Gallery
click here to view the gallery
Community content is available under
CC-BY-SA
unless otherwise noted.