Best Friend Bear is a Care Bear who was first introduced during the 2002-2006 franchise toyline re-launch, and has since made appearances throughout the series beginning with the film Care Bears: Oopsy Does It! in 2007. She has violet fur and her Belly badge depicts a smiling yellow star and pink heart linked by a rainbow.
Best Friend Bear believes there's someone for everyone. Not in an online dating kinda way, but more like two best buddies waiting to happen. Believing everyone should have someone, Best Friend acts as sort of a matchmaker between people or bears she thinks have something in common, and that true friendship lasts forever. Of course, when no one else is available, she's more than willing to fill the void until she can find someone suitable to take her place.
In other languages:
German: Bester-Freund-Bärchi ("Best-Friend-Bear")
Japanese: ベストフレンドベア
Spanish: Mejoramigosita ("Best Friend Bear")
2000's series
2002-2006 toyline
Best Friend Bear made her debut as a plush doll during the Care Bears franchise re-launch in the early-to-mid 2000s, and has since appeared in a number of different varieties, including a standard 10" plush, 5" soft plush, 10" Easter Bunny plus, and a 14" singing plush.
Oopsy Does It!
Best Friend makes her first animated appearance in the 2007 film Oopsy Does It! as one of the many residents of Care-a-Lot. When the villainous Grizzle plots to steal all the bear's Belly Badges to take over the town, Best Friend is among the many bears who attempt to stand up to him. However, when the badges won't obey his commands because he simply doesn't care, the orb that contains them is smashed, with the individual powers held within seemingly lost. At Oopsy Bear's suggestion, the bears hold hands and remember how much they care, restoring their lost symbols. Care Bears: Oopsy Does It!
Adventures in Care-a-Lot TV series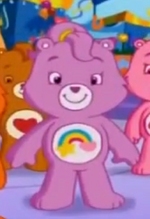 Best Friend appears in the 2007-2008 animated series Adventures in Care-a-Lot where she receives a redesign in the form of lighter, more fuschia-colored fur and longer hair pulled up in a ponytail with a yellow scrunchie. She is among the many bears whose Belly Badge had become amplified by one of Grizzle's botched plans to remove them entirely, becoming argumentative and confrontational until she and the rest of the bears are brought back to normal. Erased
She is later seen when Oopsy Bear is experiencing what he believes to be a string a bad luck while causing a mess at the town grocery store, and later appears among the crowd cheering him on at a hoverboard race. Luck'O Oopsy When Grizzle comes to Care-a-Lot looking for his lost assistant Mr. Beaks, Grumpy attempts to make him a new one, but is rejected. Regardless, the new Beaks dolls become popular among the bears, including Best Friend. Desperately Seeking Mr. Beaks
2010's series
Welcome to Care-a-Lot TV series
Best Friend appears in the Care Bears: Welcome to Care-a-Lot television series, where she has a tendency to use the word "friend" throughout her dialogue. She is first seen during the annual Belly Badge Bout competition, as a member of the "Bear-a-Lots" with Good Luck Bear, Love-a-Lot Bear, and Wish Bear, who have a rivalry with team Bear Power, made up of Grumpy, Funshine, Harmony, and Share. However, the group spends so much time bickering among themselves, they don't even have time to practice. Cub Bouts
Notes