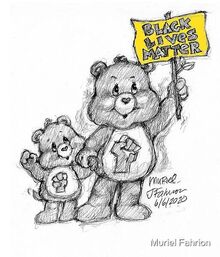 Black Lives Matter Bear is a Care Bear debuted in June 2020. He was created by Muriel Fahrion, a former American Greetings employee and the original designer for fellow-AG property Strawberry Shortcake, for use on prints on her online store that would support the Reed Foundation, a charity.
At the same time, she also did Black Lives Matter art of Orange Blossom from Strawberry Shortcake.
Copyright Complaint by Cloudco Entertainment
As Black Lives Matter Bear was created without the consent of Cloudco Entertainment, the company cited Fahrion with copyright infringement and took the drawing off of her store on June 12, 2020, although she did manage to raise over $2,500 for The Reed Foundation.
Fahrion also took down her Orange Blossom art, which was to avoid any copyright problems with WildBrain, the current owners of Strawberry Shortcake.
Community content is available under
CC-BY-SA
unless otherwise noted.