Daydream Bear is a toy-exclusive Care Bear who was originally released as a UK-exclusive plush in the mid-1980's and was since revived in the 2000's toyline for worldwide release.
Personality and Appearance
Prone to "zoning out" and getting lost in her own little world, Daydream Bear has her head in the clouds even more than most Care Bears. While this has the unfortunate side-effect of making her very accident-prone, it also gives her a very active imagination and provides new ways to solve problems. She has to remain vigilant to keep herself focused on the task ahead, and encourages others to do the same.
In her original appearance, she was pale pink with a pair of rainbow heart balloons as her Belly badge, and in the 2000's she was redesigned to be violet with a Saturn-like heart-shaped planet badge surrounded by small stars. Her new belly badge is in the form of a heart-shaped ringed planet surrounded by small stars.
History
Daydream Bear's only appearance in the 1980's Care Bear franchise was as a limited-release UK-exclusive plush toy.
2002-2007 toyline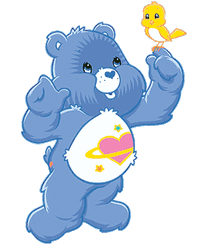 Daydream Bear was brought back in the early-to-mid 2000's Care Bears franchise revival from Play Along, with a redesigned appearance. This new version was made available in a number of different toy varieties, including a 9" comfy plush, a 12" "troll hair" plush, and a 9" special edition plush with hoodie pajamas.
In a rare twist, however, a toy based on her original design was re-released in celebration of the franchise's 20th anniversary in 2003 in North America.
Daydream Bear doesn't appear in Welcome to Care-a-Lot, also she was released in the toyrange, where she got a 14-inch glittery eye plush in 2017 by Just Play.
Daydream appears in Unlock the Magic merchandise, such as in the book The Bears Are Back in Town - The Ultimate Guidebook.
Descriptions
2005-2006: Daydream Bear loves playing pretend. She shows how important imagination is for everyone. But with her funny little accidents, she also shows that it's important to pay attention, too. Her tummy symbol is a daydreamer's dream. It's a "spacey" heart-shaped planet surrounded by stars.
2002 Website Profile:
Caring Mission: Shows people how important imagination is.
Symbol: A heart-shaped planet orbited by stars.
Personality: Imaginative, inspiring and funny.
Character Quirk: She gets into funny little situations when she's not paying attention and can't figure out how she got there.
Color: Periwinkle.
Best Friend: Smart Heart Bear
Relationship Challenge: She always gets into arguments with Bedtime Bear over whether you have to be awake to daydream.
Motto: A daydream a day keeps the frowns away.
2017 Daydream Bear shows that daydreams are fun and help inspire people to do great things. But she also shows it's important to pay attention. She is constantly getting into funny little scrapes because her thoughts are somewhere else. Her tummy symbol, a heart-shaped planet with stars, shows that it can be fun to have your thoughts elsewhere at times.
The Bears Are Back in Town - The Ultimate Guidebook: Daydream Bear's feet may be on the ground, but her head is always in the clouds. Daydream is forever envisioning new and exciting situations for herself and her friends. With all her daydreaming, this bear has to work hard to stay concentrated on the task at hand. Luckily, when she has a bit of trouble focusing every now and then, her friends are there to help her stay on track.
In Other Languages
Danish: Dagdrømmebjørn ("Daydreaming Bear")
Dutch: Dagdroom Beer ("Daydream Bear")
French: Grosreveur ("Big Dreamer")
French (Canadian): Rêvours ("Dreamer")
German: Tagtraum Bärchi ("Daydream Bear")
Japanese: デイドリームベア
Norwegian: Dagdrømmebamse ("Daydreaming Bear")
Portuguese: Sonhadora ("Dreamer")
Swedish: Dagdrömsnalle ("Stargazer Bear")
Community content is available under
CC-BY-SA
unless otherwise noted.