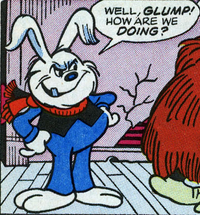 Haywood the Hailstone Hare, otherwise simply known as Haywood, is a villain from the Care Bears comic book series who appeared in the 1st issue story "The Plot to Steal Summer". He is a white anthropomorphic rabbit wearing a blue one-piece suit with black vest and a red scarf, and serves as one of the henchman of Glump along with Beezy the Sleazy Freezy Dragon and Slush Monkey.
Comic series
When his master the Glump spies some children having fun on the beach, he orders Haywood to put a damper on their day with his hailstone machine, pelting them with large pellets of ice. When Tenderheart Bear, Grumpy Bear, and Funshine Bear come to investigate, they are able to clear up the stormy weather using Funshine's powers, much to Glump extreme annoyance. When his other two minions are more successful, the bears leave to regroup and think of a plan. Funshine and Good Luck Bear attempt a direct assault on Glump's home, but are repelled by Haywood and his cohorts, forcing them to retreat.
When Cheer Bear comes up with an idea to actually enjoy the snow day rather than fight it, the bears begin to ski, sled, and skate through the winter wonderland, getting the kids to join them. Despite Glump's rage over the ensuing events, his followers instead become jealous of their good time and decide to join them, and are promptly fired. Care Bears Issue 01
Community content is available under
CC-BY-SA
unless otherwise noted.