Heartsong Bear is a Care Bear who debuted as a plush toy in 2006. Her fur is teal blue, and her Belly badge is a rainbow-colored musical note surrounded by five different colored hearts.
The "star" of the Care Bear crew, Heartsong believes that everyone should always put their best feelings. Or, falling that, compensate with a really noisy microphone. While this musical bear may spend most of her time singing, dancing, or just performing, she's not as self-absorbed as one might think. No, she also sees others as blank stages just waiting to be turned into living sounds of music by her expert singing techniques. To her, the path to feeling good inside starts from the outside.
2000's series
2002-2006 Toyline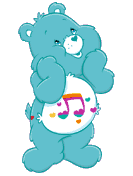 Heartsong made her debut in 2006 during the Care Bears relaunch toyline. She was made available in several varieties, including comfy vanilla-scented plush, "troll hair" plush, and 8" and 12" varieties. Her 12" variant came packaged with a Care Bears Family DVD.
Adventures in Care-a-Lot
Heartsong received a redesign only a short time after her debut to emulate the style of characters from Adventures in Care-a-Lot, now wearing her hair tied up in a ponytail. Her belly badge was also simplified to include a plain rainbow-colored musical note with a white heart inside with surrounded by three different colored hearts.
2010's series
Care Bears and Cousins
Heartsong was released in Fall 2017 by Just Play toys as a plush. She has not yet appeared in any of the 2010's shows or specials.
Descriptions
2006-2007: There's always music in the air for Heartsong Bear. This lively bear loves every kind of music and she loves the way music helps us communicate and get in touch with our feelings. She can turn almost any feeling or sound into a song.
2007-2010: Heartsong Bear knows that music is a wonderful way of sharing our feelings. She finds music in the many sounds around us and in the warm feelings of her heart. She loves music and the happiness it brings, and this shows in the cheerful music notes on her belly badge.
Notes
In other languages:
Japanese: ハートソングベア