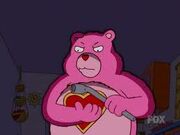 Intensive Care Bear is a kind of Care Bear referenced in both "The Simpsons" and "Robot Chicken". They are treated differently in each show. The Simpsons episode aired in 2003 and the Robot Chicken episode aired in 2007.
These are parodies demonstrating the Care Bears' influence on popular culture and are not part of any official canon universes.
Simpsons
In the Simpsons, a bear resembling Love-a-Lot Bear (but with a deep voice and scary demeanor) approaches Homer and scares him. This happens because Homer is having a nightmare about bears, a phobia of his.
Homer: "Are you a Care Bear?" ICB: "I'm an INTENSIVE Care Bear." Homer: "Why does a bear need a crow bar?" ICB: "I don't like to get my hands dirty."
External links
Robot Chicken
Simpsons
Community content is available under
CC-BY-SA
unless otherwise noted.