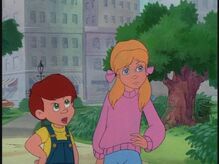 Kim is a 9 year old orphan who stars in The Care Bears Movie. She has a younger brother named Jason.
Physical Description
Kim has blonde hair in pigtails tied with pink bows. She wears a pink sweater, blue pants, pink and white sneakers, and has blue eyes. As an adult, she has gray hair and wears a pink dress and a light blue sweater.
Appearances
The Care Bears Movie
Kim and Jason first meet Friend Bear and Secret Bear while out for a walk in a park. They take no interest in them at first but then after an accident caused by Baby Hugs and Baby Tugs, they are transported to Care-a-Lot via the Rainbow Rescue Beam. The bears are introduced to the kids and get a tour around Care-a-Lot.
After a "Cloud Quake" happens (caused by The Spirit), the Rescue Beam malfunctions, causing them to teleport to the Forest of Feelings instead of going back to Earth. Once there, they meet Brave Heart Lion and Playful Heart Monkey. The spirit attacks them in forms of a spearfish, a tree, and a eagle. Then they go to Earth to help Nicholas.
Kim and Jason help Nicholas realize what he has done wrong, an explain that they once felt the same way he does. He closes the book, trapping The Spirit in it. Afterwards, Kim and Jason find new parents at one of Nicholas' shows. When Kim grows up, she married Nicholas and runs an orphanage with him and tells the children there the stories of the Care Bears.
Gallery
Community content is available under
CC-BY-SA
unless otherwise noted.