Pink Power Bear is a toy-exclusive Care Bear who was only available in 2008 as a limited edition plush toy in Target retail stores to promote breast cancer awareness. She is baby pink and her Belly badge depicts a pink awareness ribbon with a small silver heart in the middle of its loop.
Created to raise awareness of and help battle the disease, a dollar of the proceeds from sales of each toy were donated directly to breast cancer research. Unlike most Care Bears, who are little balls of fluff created and marketed to appeal to the child in us all, Pink Power Bear symbolizes the ongoing struggle of women burdened with a very real, very debilitating, yet not unbeatable hurdle in both their lives and their family's. Though her rarity and high collector's value make her all but unobtainable to the average consumer, it is perhaps the idea of simply getting the word out about the disease how to potentially treat it that matters most.
Toys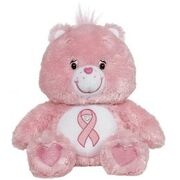 Pink Power Bear was sold as a limited edition Target store exclusive 13" plush doll throughout 2008. She was packaged with a pink awareness bracelet, and one dollar of each sale of the toy were used to help fund breast cancer research. Due to her rarity and relatively short run, she remains a popular collector's item.
Community content is available under
CC-BY-SA
unless otherwise noted.