Rainbow Heart Bear is a Care Bear that was released as a part of Care Package Chronicles and Care Bears and Cousins for their 35th anniversary in 2017.
Appearance
Rainbow Heart is a dark purple bear with a stylized, sparkly rainbow heart as her Belly Badge. 
2010's Series
Care Package Chronicles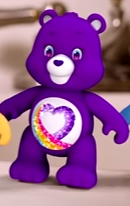 Rainbow Heart appears in the pilot episode of the web mini series, Care Package Chronicles. Although she has hardly any lines, her personality seems to be relatively similar to many other Care Bears, as she is very bright and enthusiastic.
The Story of Rainbow Heart Bear
Rainbow Heart appears in a mini-video on the official Care Bears channel. In it, it details how Share Bear, Grumpy Bear , and Funshine Bear discovered her.
The three were walking when a strange storm blew through Care-a-Lot, turning the sky purple. When a lightning bolt struck the Share Cloud, the storm faded, leaving Rainbow Heart to appear from the cloud. Rainbow Heart's belly badge is discovered to have the power of the rainbow, influencing a desire in others to be more kind and helpful.
She seems to wear her heart on her sleeve as well as her belly badge, becoming very excited at the thought of winning a prize at a game of darts, but breaks down crying when it seems as if she may not win the prize. She is eager and enthusiastic to help others, but doesn't always take the time to carefully listen.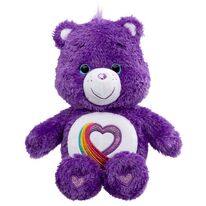 Trivia
Rainbow Heart was created especially to celebrate the Care Bears' 35th anniversary
Along with Tenderheart Bear and Wonderheart Bear, Rainbow Heart is one of the only Care Bears to have a heart as a belly badge.
Rainbow Heart is one of the numerous other purple Care Bears, like Share Bear and Harmony Bear.
The plush version of Rainbow Heart was exclusive to the year 2017, and is now unable to be purchased in stores.
Community content is available under
CC-BY-SA
unless otherwise noted.