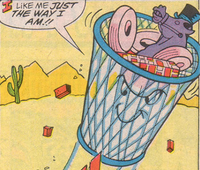 Robert the Robot Litter Basket is a villain from the Care Bears comic book series who appears in the issue 8 story "The Disappearing Town". He is a large, flying wire mesh waste basket with a face on the front created by the eccentric Inventor to gather junk that he could use in his inventions, but instead indiscriminately steals everything from everyone living in the Town of Woe.
Comic series
When objects begin disappearing from the Town of Woe left and right, Funshine Bear, Cheer Bear, Grumpy Bear, and Bedtime Bear arrive on the scene. Following a trail of objects to a remote house in the desert outside of town, the bears are attacked by what seems to be a living smoke cloud, but soon find out it's just the latest creation of The Inventor meant to welcome people. Just then, Robert arrives with a new assortment of things for his creator to use, including the town statue, but the bears inform him that much of it is stolen.
Never intending Robert to be a thief, the Inventor tries to reprogram him, but the living litter box rebels and flies away, saying he likes himself just the way he is. The Care Bears give chase and are able to hit him with a Care Bear Stare that re-writes his programming, turning him good. Wanting to make up for his mistakes, the trash bin flies back to Woe to put everything back in its place. Care Bears Issue 08
Community content is available under
CC-BY-SA
unless otherwise noted.