Shine Bright Bear is a Care Bear who first appeared as a plush toy in 2006. She has magenta-colored fur and her Belly badge depicts a yellow smiling rising sun inside a large purple heart.
The "fashionista" of the Care Bear crew, Shine Bright believes that everyone should always put their best face forward. Or, falling that, compensate with a really snazzy wardrobe. While this bear may spend most of her time grooming, cleaning, or just plain accessorizing, she's not as self-absorbed as one might think. No, she also sees others as blank canvases just waiting to be turned into living works of art by her expert styling techniques. To her, the path to feeling good inside starts from the outside.
2000's series
2002-2006 Toyline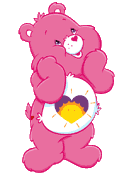 Shine Bright made her debut in 2006 during the Care Bears relaunch toyline. She was made available in several varieties, including comfy plush, beanbag plush, "troll hair" plush, and a butterfly costume plush. Her 12" limited edition rose-scented plush from Play Along has a special rose scent and comes with a DVD featuring a Care Bears Family episode.
Adventures in Care-a-Lot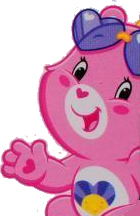 Shine Bright received a redesign only a short time after her debut to emulate the style of characters from Adventures in Care-a-Lot, and now sports a pair of heart-shaped sunglasses. Her belly badge was also simplified to remove the rays from around the sun. While she doesn't have any speaking lines in the series itself, she does appear in its corresponding toyline.
2010's series
Care Bears and Cousins
Shine Bright was released in Fall 2017 by Just Play toys as a plush. She has not yet appeared in any of the 2010's shows or specials.
Descriptions
200g-2007: Shine Bright Bear believes we should try to shine in all we do, and that includes putting a special polish on how we look. She loves dressing up to look her best and she is Care-a-Lot's fashion princess. her symbol shines too - it's a bright sun inside a heart.
2007-2010: Shine Bright Bear believes we shine in everything we do. Which means looking our best at all times, too! Some say she's a fashion princess. Even her belly badge glows as bright as her appearance - a shining sun inside a heart!
Notes
In other languages:
Japanese: シャインブライトベア
Community content is available under
CC-BY-SA
unless otherwise noted.