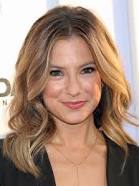 Stephanie Lyn Beard, better known by her stage name Sugar Lyn Beard, is a Canadian television actress, voice actress, and television and radio personality. She voiced Wish Bear in 2004 through 2006.
Other projects
Cyberchase (2002-) - Creech
Sausage Party (2016) - Baby Carrot, Cookies
Franklin (1997-2003) - Betty Beaver
The Flash (2014) - Becky Sharpe (Hazard), Clifford DeVoe (The Thinker)
Sailor Moon (1995) - Sailor Mini-Moon (Rini)
The World of Piwi (2003) - Sunny, Brooklyn
Harry and His Bucket Full of Dinosaurs (2005–2008) - Nancy the Nanosaurus
Community content is available under
CC-BY-SA
unless otherwise noted.