Take Care Bear is a Care Bear who was first introduced in a 1987 cough syrup coloring book, and has since been revived as part of the franchise's 2000's toy line.
Profile
Appearance
In the 80's, she had honey-yellow fur and her Belly badge was a red apple, while in the 2000's she is pale pink and her badge depicts a purple heart holding a yellow star.
Personality
Some may think of Take Care Bear as overly cautious, but this bear really puts the "care" in Care Bear. While she may have a tendency to be over-protective, it's only because she values her friends so much, and has made it her business to keep everyone healthy and in one piece. When it comes to Take Care Bear, safety always comes first.
Main Storyline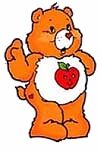 Take Care's first and only appearance during the franchise's original 80's run was in a Care Bear cough syrup coloring book, where our fuzzy spokes-bear expunged the benefits and proper administration of the helpful elixir.
2000's series
2002-2006 toyline
Take Care was plucked from obscurity in the Care Bears relaunch toyline in the early and mid 2000's, and received a rather large redesign in the process. Though she now sports pale pink fur and a new belly badge, she still retains her happy helpful attitude from before.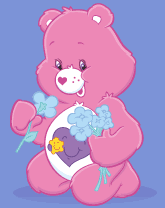 She has appeared as a number of different products, including a 10" plush with a "hugs and kisses" heart accessory, a "troll hair" plush, a 7" plush with a bathrobe and doll accessory, a beanbag plush with nightcap, and a large 13" talking plush that came packaged with a special DVD.
Descriptions
2002-2006: Take Care Bear is one very careful bear. As Care-a-Lot's expert on "looking before you leap," she teaches others how to be safe and careful. She is also a warmhearted bear who wishes the best for everyone. Her symbol shows her caring, careful nature - a smiling heart hugging a star.
Trivia
Take Care's original apple belly badge is nearly identical to Smart Heart Bear's, except it has a face and no white heart twinkle.
In other languages:
Dutch: Verzorg Beer ("Care Bear")
German: Pass-auf-Bärchi ("Pass-on-Bear")
Japanese: テイクケアベア
Swedish: Försiktignalle ("Careful Bear")
Gallery
Community content is available under
CC-BY-SA
unless otherwise noted.