Thanks-a-Lot Bear is a Care Bear who first appeared as a plush doll in 2004 during the early 2000's franchise relaunch toyline, and has since made a few cameos in the Care Bears: Welcome to Care-a-Lot series. She has blue-green fur and her Belly badge is an upward-angled shooting yellow shooting star with a red heart in the middle and a rainbow trail.
Probably the most thankful Care Bear of them all, Thanks-a-Lot wholly believes in the power of magic words, and that saying the right thing in the right way can make anyone's day better. Aware enough to know that neither she nor anyone can do everything alone, she expresses her gratitude whenever possible, and encourages others to do the same.

2000's series
2002-2006 toyline

Thanks-a-Lot debuted in toy form beginning in 2004, and has since been made into a variety of products, including beanbag plush, "troll hair plush", and 8" and 13" plush varieties. The 13" plush also has a talking feature, and is voiced by Sherry Lynn.
He is also the subject of the 2005 children's book Care Bears: Giving Thanks by Scholastic, a Thanksgiving story that also happens to features a rare 2000's appearance of the Care Bear Cousins.
2010's series
Welcome to Care-a-Lot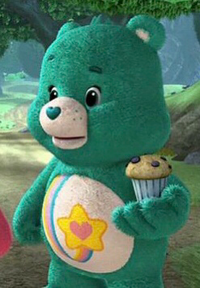 Thanks-a-Lot makes her television debut in the Welcome to Care-a-Lot episode "Sleuth of Bears". When a slumber party thrown by female Care Bears in interrupted by news that Grumpy Bear's "Care-a-Van" was attacked, she was among those who witnessed it. Sleuth of Bears Once she had her birthday party ruined when a vain Funshine Bear blue out the candles on her cake before she could. Shunshine She is later seen among a crowd of spectators during the annual Belly Badge Bout competition witnessing what appears to be Wonderheart Bear's new powers, but it turns out the cub was just secretly using some of Tenderheart's Care 'N Share Charms to grant her own wishes. Cub Bouts
She frequently says "thanks a lot" time to time in accordance to her mission.
Descriptions
2002-2006: Thanks-a-lot Bear is the special bear who reminds us to thank people who have been nice to us. She is quite thoughtful and loves to write notes and give gifts. Her bright symbol shows us that we make our world a brighter place whenever we say a single magic word - "Thanks!"
Notes
His belly badge is very similar to Wish Bear's, but Thanks-a-Lot's shooting star is angled up instead of down.
Thanks-a-Lot shares a similar naming structure with other bears such as Love-a-Lot, Laugh-a-Lot, and Play-a-Lot.
In other languages:
German: Dankeschön-Bärchi ("Thank You Bear")
Japanese: サンクスアロットベア
Swedish: Tack-och bocknalle ("Thanks and Bow Bear")
Spanish: Agradeceosita ("Thank You Bear")
Community content is available under
CC-BY-SA
unless otherwise noted.