Trick-or-Sweet Bear is a toy exclusive bear that was released as a part of the most recent Care Bears series, Care Bears: Welcome to Care-a-Lot and Care Bears and Cousins.
Physical Description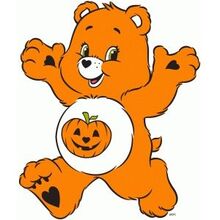 Trick-or-Sweet is one of the numerous holiday themed bears to be released, such as America Cares Bear. She has orange fur with olive colored eyes, and her Belly Badge is a Halloween pumpkin, commonly called a jack-o-lantern.
TBA
Trick-or-Sweet was the first merchandise-exclusive Bear to have artwork done in the style of Unlock the Magic.
Although the character's gender was changed to male, The Bears are Back in Town - The Ultimate Guidebook refers to the character using non-gender pronouns.
Descriptions
2020-present: A sly prankster with a taste of mischief (and candy), Trick-or-Sweet Bear is always coming up with new ways to trick their friends. Trick-or-Sweet can sometimes become easily distracted. But getting them to focus isn't too difficult, just wave a piece of candy in front of them and they'll focus. Trick-or-Sweet's pranks are all fun and games. They believe it's important to be able to laugh and never take anything too seriously.
Community content is available under
CC-BY-SA
unless otherwise noted.