Unity Bear is a Care Bear especially created for the app-game Panda Pop as part of a collaboration between the app's publisher Jam City and Cloudco Entertainment. She is a light teal/green Care Bear, and her Belly Badge depicts three Care Bears forming their paws into a triangle - the strongest shape in nature.
Description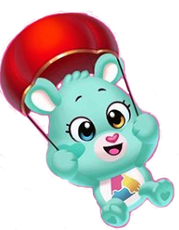 Press Release: "Together, we are stronger" — that is Unity Bear's motto. With more helping hands, more magic and fun can be created. Unity Bear knows there is power in numbers and by embracing our differences and banding together we can do so much for so many. Her belly badge features Care Bear paws folded over one another in the shape of a triangle, the strongest shape in nature. By uniting people all over the world, Unity Bear brings harmony and strength to accomplish Care Bears' caring missions.
Community content is available under
CC-BY-SA
unless otherwise noted.