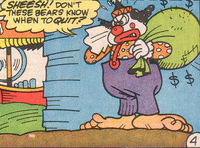 The Upside-Down Clown is a villain from the Care Bears comic book series who appeared in the issue 13 story "The Upside-Down Clown". He is a particularly money-hungry circus clown with purple pants held up by suspenders, and an orange and white polka-dotted shirt and pointed hat. Not to mention his Gravity Battery which can turn people upside down at a whim, he preferred method of pilfering loose change.
Comic series
When Bedtime Bear notice a strange occurrence at a circus where children are floating upside down only to have their pocket change stolen by a shadowy figure, he Birthday Bear, and Wish Bear go down to get to the bottom of this top-down mystery. Upon arrival, they learn that a disgruntled clown is behind the anti-gravity escapades, and chase him through the circus grounds until they themselves are floating helplessly thanks to his Gravity Battery ray gun. When the villain attempts to escape through a house of mirrors, Wish Bear gets an idea to fire a Care Bear Stare inside and have it reflect off all the mirrors, amplifying its power. Sure enough, the kleptomaniac clown is struck with the beam and reverts to a much nicer form, agreeing to give back all his ill-gotten gains. Care Bears Issue 13
Community content is available under
CC-BY-SA
unless otherwise noted.