A 
Whiffle 
is a small, multicolored creature that lives in the Silver Lining.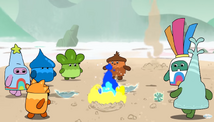 Characteristics
Whiffles are small, friendly creatures that are often bright in color. They walk on two legs, and some are vaguely plant shaped while others have completely unique body shapes. They speak only through coos and various other guttural noises. Since they are very simple beings and non-aggressive, Whiffles often require a Care Bear to look after them, such as in the case of Dibble.
Purpose
Whiffles help Care-a-Lot grow by planting seeds of caring everywhere they can. Since this is in the best interest of the Care Bears, they will often go out of their way to protect them.


Community content is available under
CC-BY-SA
unless otherwise noted.