A Whiffle is a small, multicolored creature that lives in the Silver Lining.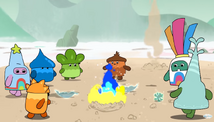 Characteristics
Whiffles are small, friendly creatures that are often bright in color. They walk on two legs, and some are vaguely plant shaped while others have completely unique body shapes. They speak only through coos and various other guttural noises. Since they are very simple beings and non-aggressive, Whiffles often require a Care Bear to look after them, such as in the case of Dibble.
Purpose
Whiffles help Care-a-Lot grow by planting seeds of caring everywhere they can. Since this is in the best interest of the Care Bears, they will often go out of their way to protect them.
Descriptions
The Bears Are Back in Town - The Ultimate Guidebook: These happy, huggable, and completely adorable creatures may not say much, but they have a very important job. The Whiffles are responsible for creating new areas of Care-a-Lot by planting a Seed of Caring in barren areas of the Silver Lining. But their work doesn't stop there: To thrive as a new part of care-a-Lot, the new area needs special nurturing that only the Whiffles can provide. Most Whiffles act like gardeners, whether they're tending the plants with magical nutrients of caring or bringing water to the land. For example, Sun Whiffles absorb sunlight and take it where it's needed to nurture plants. If the Whiffles stop working (usually thanks to Bluster and his Bad Crowd), any newly planted area begins to wilt and wither. When this happens, an alarm sounds in Caring Control Tower and the Care Bears rush to help.