Work of Heart Bear is a toy-exclusive Care Bear who originally debuted in 2006.
Appearance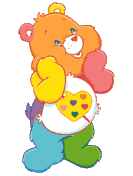 Her fur is a multicolored hodgepodge and her Belly badge depicts a yellow heart-shaped artist's palette with six differently colored heart-shaped paints.
Personality
Too creative and imaginative to be pinned down to just one fur color, the always interesting Work of Heart is as poppy and jubilant as her crazy coat suggests. An artist in her own mind, she values her own individuality over everything else and is never one to shy away from expressing her own unique talents, or encouraging others to do the same.
Toys
Work of Heart was first released as a plush toy in 2006 and has since been made available in several varieties, including an 8" bean bag plush, 8" comfy plush, and 12" floppy scented plush with special tutti frutti scent.
Descriptions
2006: Work of Heart Bear is the most creative Care Bear of all. She's artistic and imaginative. She reminds us that we can all express our feelings while we create beautiful things when we put our heart into it. She shows this with her tummy symbol - an artist's palette with hearts.
Notes
In other languages:
Japanese: ワークオブハートベア
Community content is available under
CC-BY-SA
unless otherwise noted.